225IPAB & 225IPC Indicator Post
225IPAB & 225IPC Indicator Post
• Indicates if the valve is in the OPEN or SHUT position.
• Provides a means to operate a buried or otherwise inaccessible valve.
• The wrench handle fits over a "U" bracket on the barrel and may be fixed to the barrel with a padlock (provided by others) for security.
• Ease of Installation. Telescoping stem can be adjusted without field cutting
• OPEN and SHUT signs are easily adjusted by removing the post head.
• Telescoping Design allows for easy adjustment to final grade
• For use with gate valve size 4"-12".
• UL Listed and FM Approved.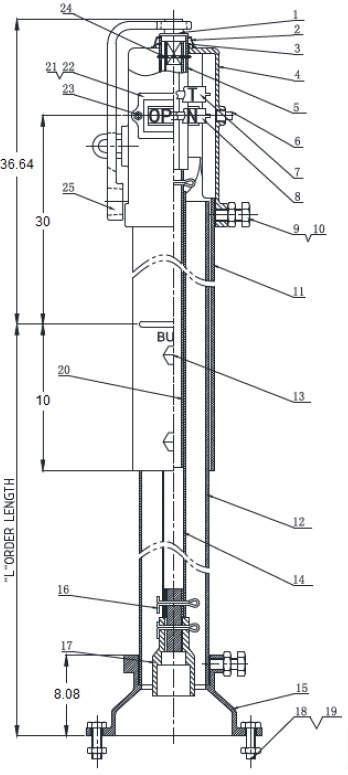 Field Adjustment
| Order Length | Min | Max |
| --- | --- | --- |
| A | 18.00 | 39.50 |
| B | 36.00 | 60.50 |
| C | 57.00 | 81.50 |
Material Specifications
No.
Part
Material
ASTM Spec.
1
Operating Nut
Ductile Iron
ASTM A536 64-45-12
2
Weather Cap
Polyethylene
3
Retaining Ring
Stainless Steel
ANSI 302
4
Post Head
Cast Iron
ASTM A126 CLB
5
Threaded Sleeve
Stainless Steel
ANSI 304
6
Pipe Plug
Carbon Steel
7
"SHUT" Target
Cast AL
8
"OPEN" Target
Cast AL
9
Bolt
Carbon Steel / Zinc Plated
ASTM A307B
10
Nut
Carbon Steel / Zinc Plated
ASTM A307B
11
Upper Barrel
Carbon Steel
ASTM A53 Gr. B
12
Lower Barrel
Carbon Steel
ASTM A53 Gr. B
13
Bolt
Carbon Steel / Zinc Plated
ASTM A307B
14
Lower Stem
Carbon Steel
ASTM A513
15
Bell
Cast Iron
ASTM A126 CLB
16
Cotter Pin
Stainless Steel
ANSI 304
17
Coupling
Ductile Iron
ASTM A536 64-45-12
18
Bolt
Carbon Steel / Zinc Plated
ASTM A307B
19
Nut
Carbon Steel / Zinc Plated
ASTM A307B
20
Upper Stem
Carbon Steel
ASTM A513
21
Window
Molded Plastic
22
Gasket
PTFE
23
Bolt
Carbon Steel / Zinc Plated
ASTM A307B
24
Spring Pin
Stainless Steel
ANSI 304
25
Wrench
Ductile Iron
ASTM A536 64-45-12
Back to Top