News and Special Announcements

Effective:
SEPTEMBER 1, 2021
Price Increase Announcement
Effective: SEPTEMBER 1,2021
The Covid-19 pandemic, related containment measures, and economic factors have contributed to unprecedented challenges to supply chains affecting the distribution of domestic and globally sourced products. These factors remain fluid and entirely outside of our control. Freight costs, including ocean freight have escalated each month in 2021 and have reached unprecedented levels. Additionally, shortages of available space on container ships have put further upward pressure on costs.
Average Container Freight Cost (Rolling 12 MOS)
Throughout 2021 we have passed on material related increases in the form of list price adjustments but have refrained from recouping freight costs. Unfortunately, we must raise prices to offset these adverse conditions that face our industry.

Effective September 1, 2021, Matco-Norca/SVF Flow Controls will be implementing the following list price increases by category. All Matco-Norca and SVF Flow Controls non-domestic products are included and clarification regarding product category is available upon request.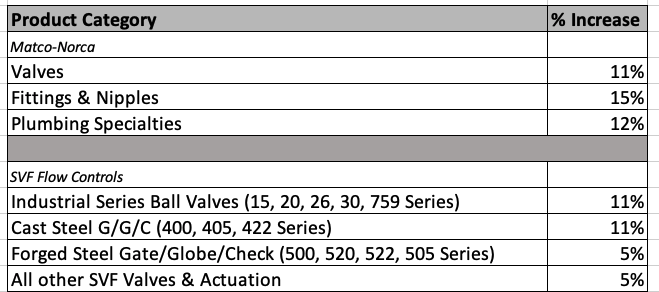 Orders placed for shipment before Wednesday September 1, 2021, will be shipped at current pricing. Matco-Norca/SVF Flow Controls reserves the right to limit orders to historical order patterns and/or alter pricing for backorders reflecting new list prices.
All list prices will be updated soon and can be found here. Net prices and multiplier revisions will be communicated directly.

Thank you for your continued support of Matco-Norca and SVF Flow Controls.
Matco-Norca/SVF Flow Controls © All rights reserved
---